Home » Sound Libraries » Bedroom Samples Bedroom Drums KONTAKT BATTERY WAV
---
Bedroom Samples Bedroom Drums KONTAKT BATTERY WAV




KONTAKT | NBKT | WAV 24-bit / 44,1 kHz - 460 MB

Our first release 'Bedroom Drums' focuses on very a tight drum kit sound. Recorded through some of the best gear on the planet (API board, APi pres, a bunch of other pres and compressors).



It comes with 400+ samples of kicks, snares, hi hats, toms, and cymbals as well as Kontakt and Battery presets.

The custom Kontakt instrument features 12 snares, 6 kick settings, 3 different tom settings and hundreds of possible combinations recorded at multiple velocities.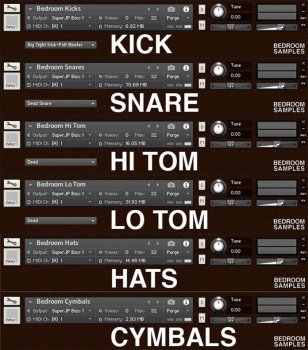 Custom Kontakt multi-instrument with an easy-to-use interface for quick drumming in your DAW.

Each drum in the Kontakt instrument can be bussed out into individual tracks for easy mixing. Each drum in the multi-instrument can be individually pitched, panned, and volume adjusted. Created modularly for ease of switching out instruments.

NI Kontakt FULL v5.8+ is required!



Home page

CLiCK HERE FOR DOWNLOAD


[ Report broken link!!! ]


Please Donate To Bitcoin Address: [[address]]
Donation of [[value]] BTC Received. Thank You.
[[error]]


Sound Libraries | Views: 156 | Added by: DOLBATOR | Tags: Bedroom, Battery, wav, Drums, Kontakt, Samples | Rating:

0.0

/

0

Tags: